Keep your building / home safe with a wide variety of Salusfin components.
From Security cameras that keep an eye on the inside or outside of your building / home, to motion sensors, smoke sensors and Door/Window sensors and much more.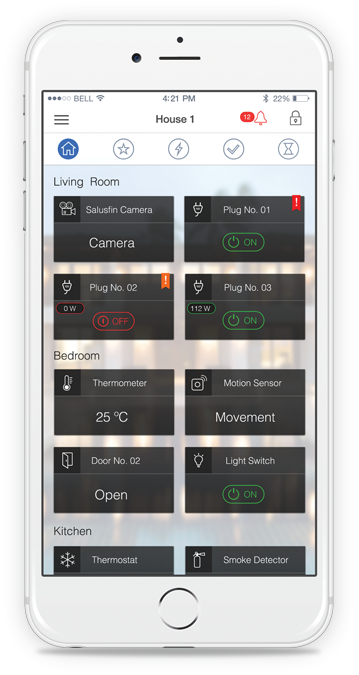 Gateway
Secure access point creating wireless network
Video Camera
Streaming video camera
Door and Window Sensor
For both doors and windows that show open and closed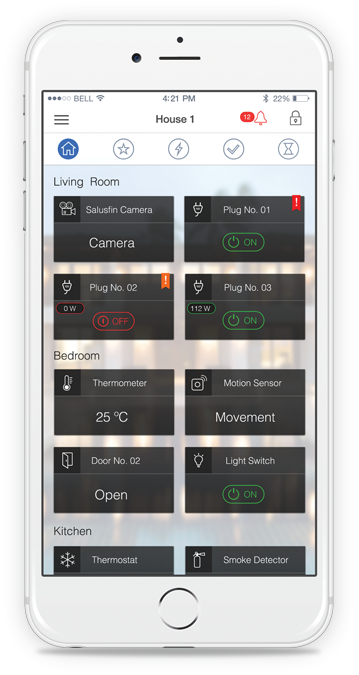 Smart Plug
You control whatever is plugged into it
Motion Sensor & Thermometer
Will detect motion/ movements as well as room temperature
Additional Hardware Available
• Smoke detector
• Electricity / Gas / Water meter
• Siren
• Smart Thermostat
• And more…
Safer building / Home
Salusfin Sensors ensure that the home is always safe. Make your home safer, more comfortable and energy-efficient. Saves your time and handles tasks, allowing you to enjoy safety of your home.

Simple Control
Salusfin provides easy installation and usage is as easy as using your smart phone.
Salusfin Security and Safety
View live stream from security camera on your mobile device, take command of your home, whether you are downstairs or downtown. Smoke or water leak alarms are delivered to your smart phone.
Home care
Salusfin ensures your family feel safe in the house. Get notification to your mobile if door opens, see if there is movement, monitor power consumption and view live feeds from security camera.
Distinctive features of Salusfin
Energy-saving innovations
Video surveillance
Real-time warnings / notifications
Remote control via smart devices
Salusfin Security and Privacy
Salusfin solution and products are user friendly and designed with security in mind. Communication between components, cloud and mobile application is encrypted and access to customer data is safeguarded. Salusfin respect your privacy and we do not disclose your information to third parties without your permission